Due to the aforementioned disgusting LJ behavior, lots of peeps are abandoning ship. So it goes with my girl:
Heidi (The Coolest Heidi in Europe, and co-holder of The Awesomest Heidi in The World title with some spazzy blogger who likes to call herself Daisy. Or Roxy. Or whatever the hell pseudonym she's half-assing these days) is down with the movement and has started a lovely new blog,
Hortus Deliciarum.
She's smarter than I am a little, so I had to beg Wikipedia to explain:
Hortus deliciarum (Garden of Delights) is a medieval manuscript compiled by Herrad of Landsberg at the Hohenburg Abbey in Alsace. It was an illuminated encyclopedia, begun in 1167 as a pedagogical tool for young novices at the convent. It was finished in 1185, and was one of the most celebrated illuminated manuscripts of the period.[1] The majority of the work is in Latin, with glosses in German.
Here is a picture: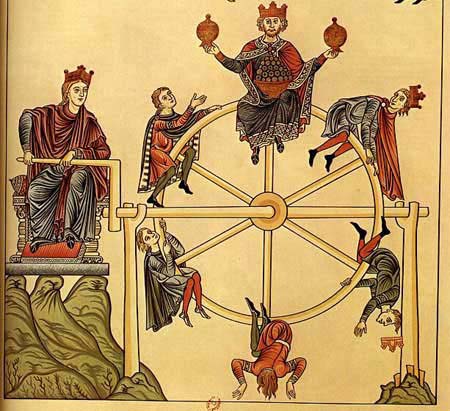 It's the
Wheel of Fortune.
Cool, huh? I love medieval illuminations. I could look at alchemical texts and diagrams all day.
But, yeh, Heidi? She's fucking incredible. She's a mom who writes so openly about her experience with a really high-needs little one that it inspires awe. Yay for self-hosted, er really dear friend-hosted WordPress bloggies:)