Q
uick moments are all I can ever manage; I'm always just skimming the surface creatively. Both with blogging and the long-term book project, there are just tiny snips of life- shreds- when I can flash on something but never following through. This is not the way I work- I've always been an art binger. I'd stay up for days during college working in hyper-focus on one project. I tend to actually sleep now, but to dig in I have to ship off the munchkin for the weekend to the grandies', worn the husband
DO NOT DISTURB or stabbiness shall be thy reward,
and get into the zone for a couple or three days.
I
cannot multitask. I can flit and flutter and- yes- tweet. But I never accomplish anything that way.
W
orking around a schedule, working around the needs of a shop, a staff, a home, a mate, and a child is the hardest thing I've ever done. Trying to make it fit is exhausting me. It might be time to stop forcing a swirling whirligig of a mind into a square hole, and get a good tunnel-vision binge on. After a recharge at the good green battery of earth that is Seneca Rock, I'll schedule some Ivory Tower days.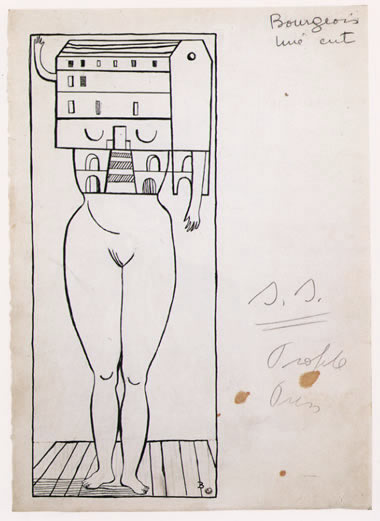 I
can't help thinking about gender when I muse about this art/mundane life rift. Do wives make less than prolific artists? Forgive me- I know we all live in perfect egalitarian marriages now, but come on- isn't there a legacy behind me, telling me this conflict exists? Am I too much dwelling on the lovely, late Louise, one of my pantheon of womanartists, who drew herself literally into houses?
O Saint Louise Bourgeois, help me balance the both. I want a nest, and my tiny bird nestled into my hip, and I want to create meaningful, beautiful, grandiose things.
[image jacked from arts journal]