We had a full day in Morgantown yesterday, with an MRI in the morning and a meeting about the results with my orthopedist that afternoon. The MRI was a thousand times more comfortable than the one here at Thomas Memorial, the hospital that I call That One I Wouldn't Send My Dog To. At the WVU hospital, they plugged my ears, then covered me with a warmed blanket. I also had prepared by taking both my muscle relaxer AND anxiety pill, so I actually slept through it, Hannibal Lecter head gear and all. WIN.
Afterward, however, I was nursing a good bit of repressed anxiety (like being absolutely positive I had MS) and a Google Maps app made me cry. Often, people with panic disorders are very funny, waiting for some tiny, ridiculous trigger to flip out. So Shane and I were driving in circles trying to find the closest, cutest-named thrift store (Lucky's Attic) and I had a sniveling episode of crazy.
Eventually we realized Lucky's seemed to have closed down, and we decided to wander around High Street on foot waiting for our spidey senses to tell us a shop was worth exploring. I had found this sign, and was in love with it when Shane yelled "HIPPIE DRESSES."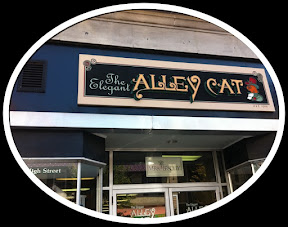 I snapped the sign photo and we went across to
Cool Ridge,
where I bought no hippie dress, but looked at the coolest shit in the universe, including some fabric lanterns that Shane had to drag me from. We bought Molly a little bagful of smooth, semi-precious stones for her collection.
At
The Fig Leaf,
I bought these two gorgeous necklaces for me:
They are so pretty I forgot to be a spaz until we went back to the hospital, where we learned that I have no multiple sclerosis, or impending death tumors, or anything more interesting than a bulging disc that isn't bulgy enough to worry the doc, or therefore me. We left with a suggestion for a neurologist consultation and/or a pain management specialist.
This afternoon I'm pain girl, and saw Dr. Voodoo. It was my last visit excepting emergencies, as my insurance has decided I must be all better because 30 visits is all it takes for any patient to be peachy hunky dory keen. He agrees I should find a neurologist, and am not a typical adrenal fatigue case, but definitely have the syndrome and must stay on my diet and supplements. I'm improving slowly, which is typical, but the pain is still keeping me in bed far too much.
So that's the story of my day, and my pain. Anyone in Charleston know a good neurologist and pain-slayer?